This post is to announce that I fixed the dumb little setting that broke this blog over a year ago (I switched hosts in a fit of disgust with GoDaddy and, well, I was a month or two into my first real job and… yeah).
Some knitting things!
I knitted at least several things since we last spoke. I promise. I haven't been abducted by aliens and replaced by a Pod Lisa. I just didn't have a blog going so I posted them to twitter or entirely didn't take a picture at all THE HORROR.
I knit 4 of the same item, a new record. I managed to rather dull the exitement, though, by losing #2 before casting on for #4, and I still dearly miss my madelinetosh tosh DK (is that how they intend you to write out their yarns? seems repetitive) Windschief. The other 3 are for people who aren't me, so this is a tragedy of near-unprecedented proportions. This disaster is in no way diminished by the fact that I knitted the thing during one supremely lazy and simultaneously productive Sunday.
I'm on a weird, self-imposed project to read all of The Yarn Harlot's blogs from day one. Somehow I was inspired by her anniversary post. I think I might be kind of crazy.
Okay, let's see what pictures I can turn up by going through my twitter photo history.
Okay that picture is absolutely huge but I am not going to do something silly like allowing enormous pictures to stop my "blogging on a roll-ness" which is a phrase that I am pretty sure the Coke Zero made me invent. The story of the yarn bundle involves a lot of reading comprehension issues and the fact that I have two others of similar size is totally not my fault. I blame reading comprehension and the fact that colors look different on the Internet. Anyone want to knit sweaters with me? Like, multiple for each of us?
Anyone…?
Oh god they're all going to be huge. FORGING AHEAD! No time for links; I'm sure all of the patterns are available on Ravelry anyway and I must continue with my MAD BLOGGING EXPERIMENT.
Looks like I'll have to stalk my knitting to its new owner. This is knit with madtosh sock held double because I'm a crazy person and NEEDED THAT COLOR. THAT EXACT ONE. I also have a fixation on madelinetosh at the moment permanently.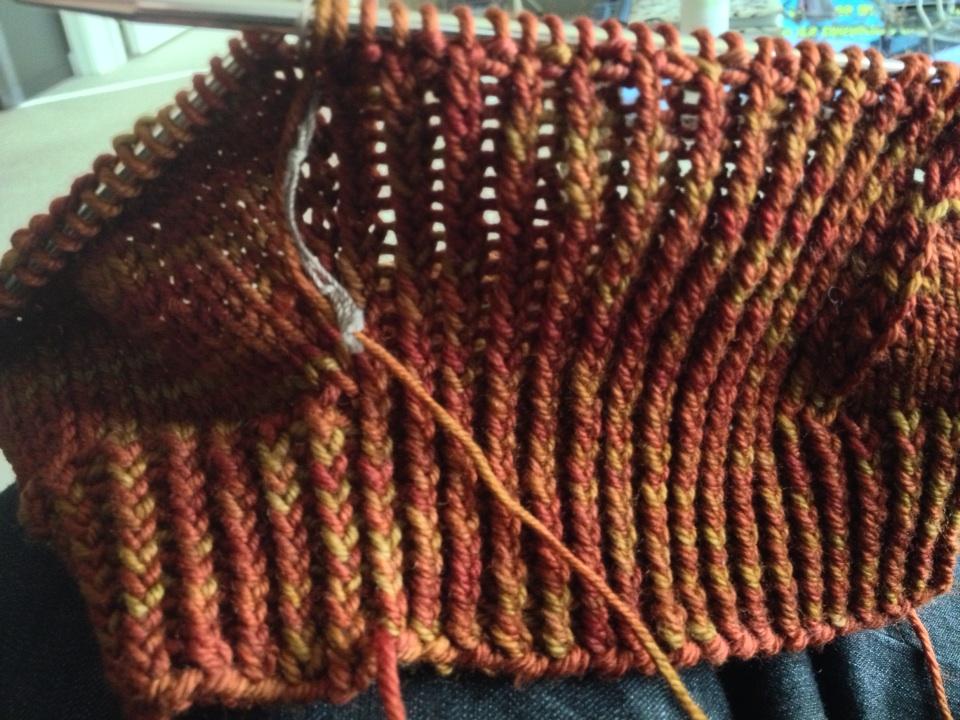 How beautiful was this hat? It was SO BEAUTIFUL. I hope whoever has it now is really enjoying it. I called the restaurant I probably had it in last. No dice. No way to get in touch with the cab driver after…
I knitted the above two FROM STASH like someone who doesn't buy more yarn than is clinically advisable.
I'm going backwards in time with these photos because that's easiest. I've since learned to knit continental/yarn-in-left-hand and loosened up my overall knitting. I no longer do an extra little gratuitous tug on each and every stitch. Not only is that uncalled-for, it is  BAD FOR MY KNITTING. And prevents making sweaters that I really, really, REALLY want. Turns out that I'll fix any knitting thing for an item that I want that badly.
Maybe I'll knit some kind of super bulky blanket with the yarn held quadruple or something super normal like that. This hobby sure makes people do super normal things. Normal.
I don't want mittens, though, so the above fingerless-glove thing was an experiment into making fingerless gloves to learn how to make more pretty fingerless gloves and also because it has been COLD in San Francisco (yes, this means I am weak and no longer allowed to consider myself an East Coaster at heart, I think). I really want to do the gloves with the two-color corrugated ribbing on each finger, which probably means that I hate myself and secretly want punishment.
ONWARDS!
Proof that I weaved in the ends instead of just hiding them and hoping they don't slip out, which, I will tell you, was EXTREMELY TEMPTING: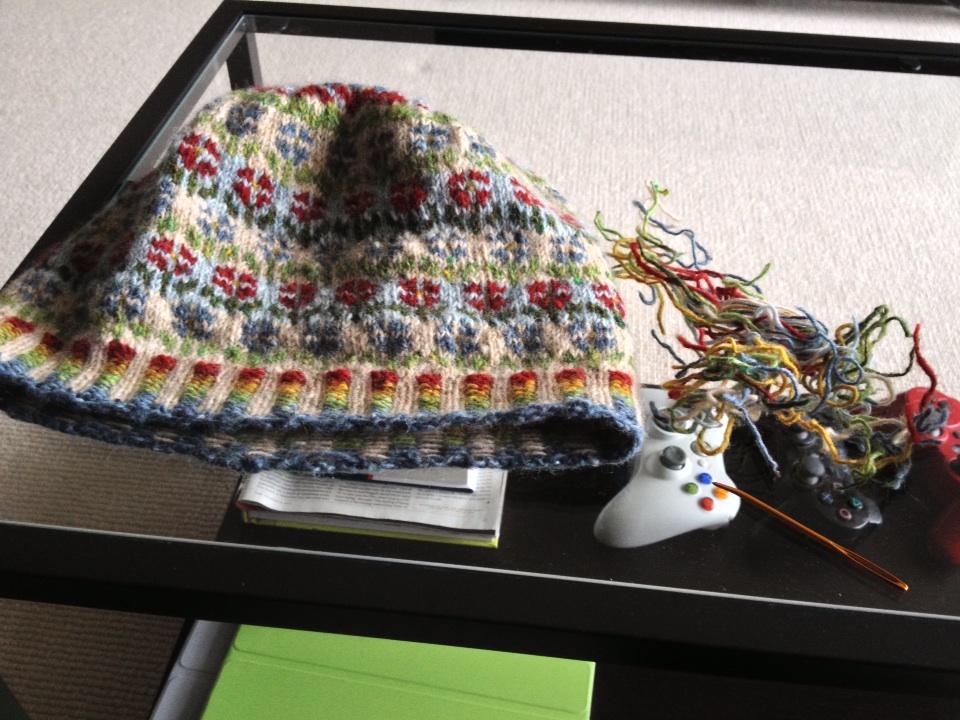 Picture of it finished though? HAH. That'd take foresight.
As we travel BAAAACKWAARDDSSS IN TIMEEE (eerie voice) we discover — terrifying — the pre-woven-in-ends state of that hat (avert your eyes):
Okay, that is as far back as Twitter's memory goes. I'll poke through photos on my phone for the next one or, what? Maybe generate new content? Speak in depth about something I'm currently working on? Resurrect some long-abandoned projects from the terror that my yarn closet has managed to become in the less-than-a-year I've been living in my current apartment? Who knows. I'm going to go with the "start typing and see where it goes" method for (theoretically) reliably producing posts.
Also, It's 5:30, not 8:30. Dunno how to get this thing on California time.